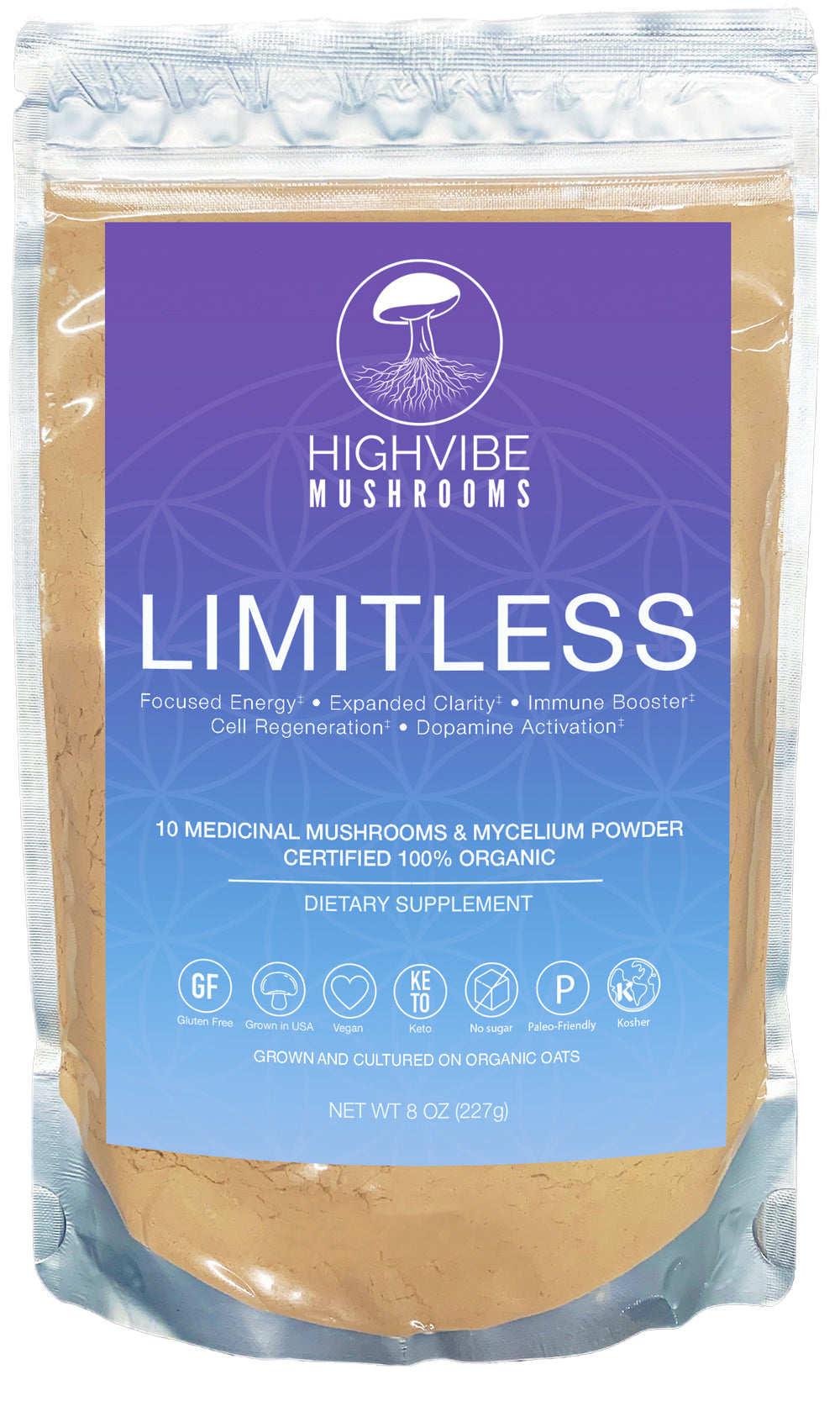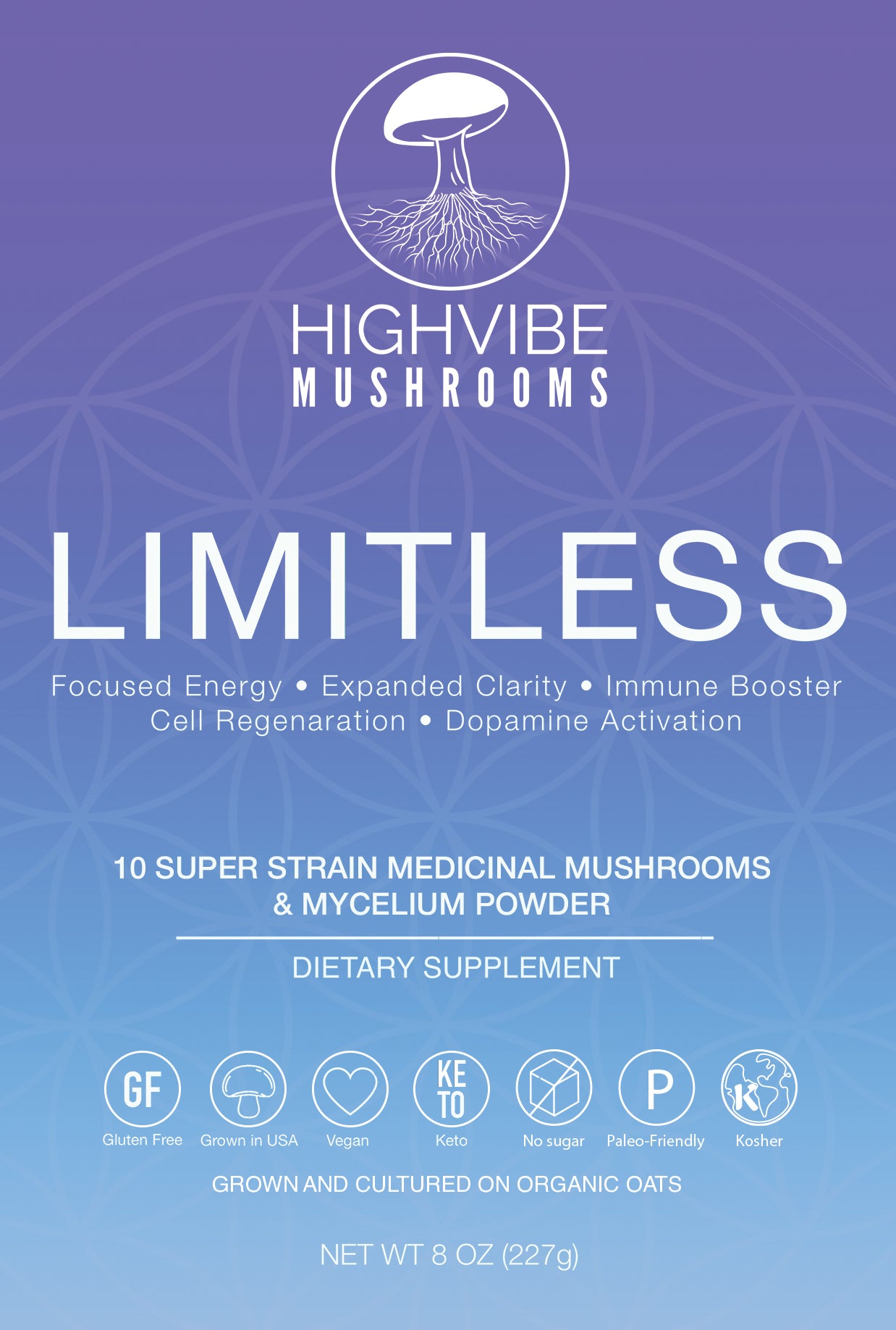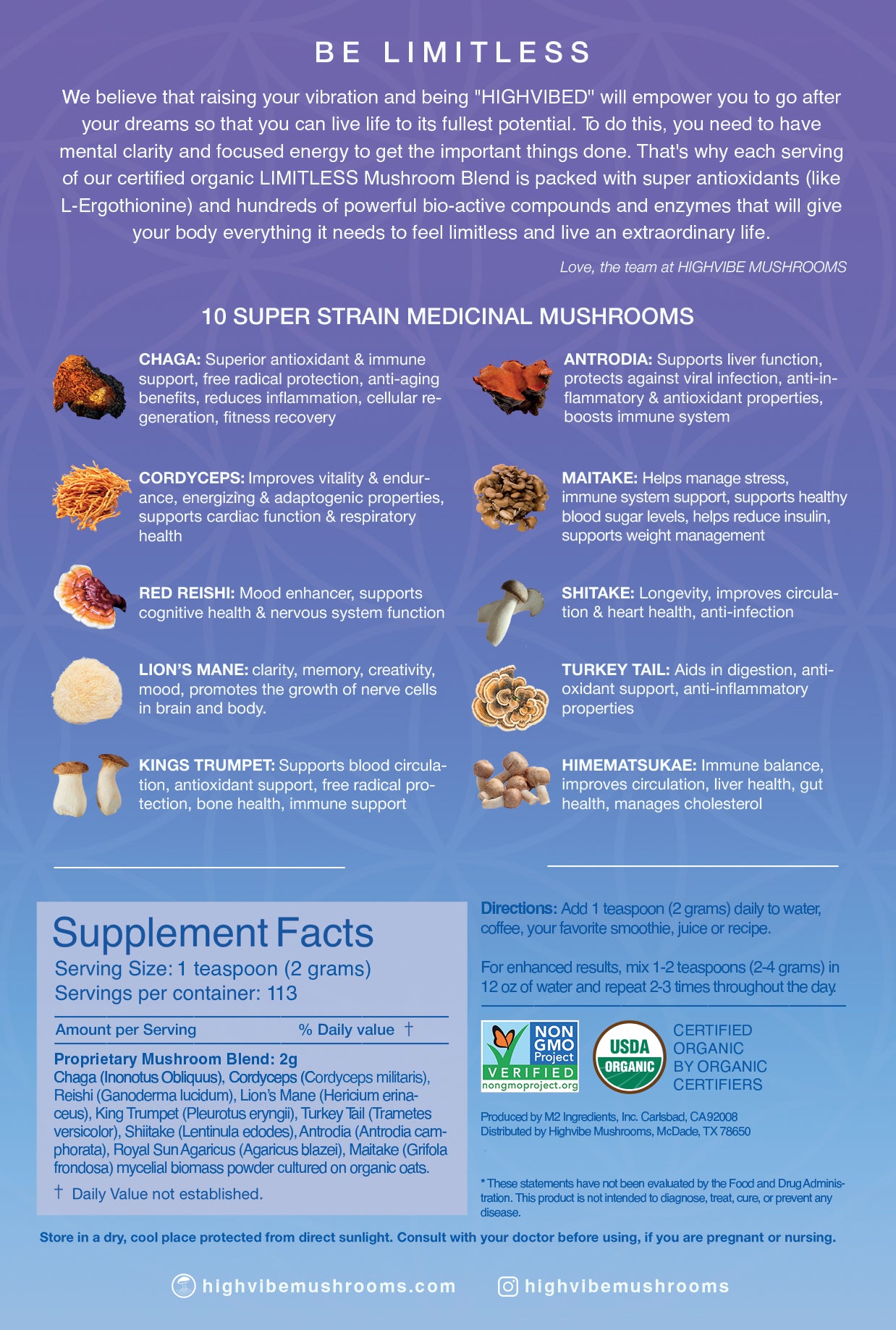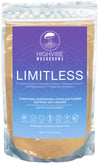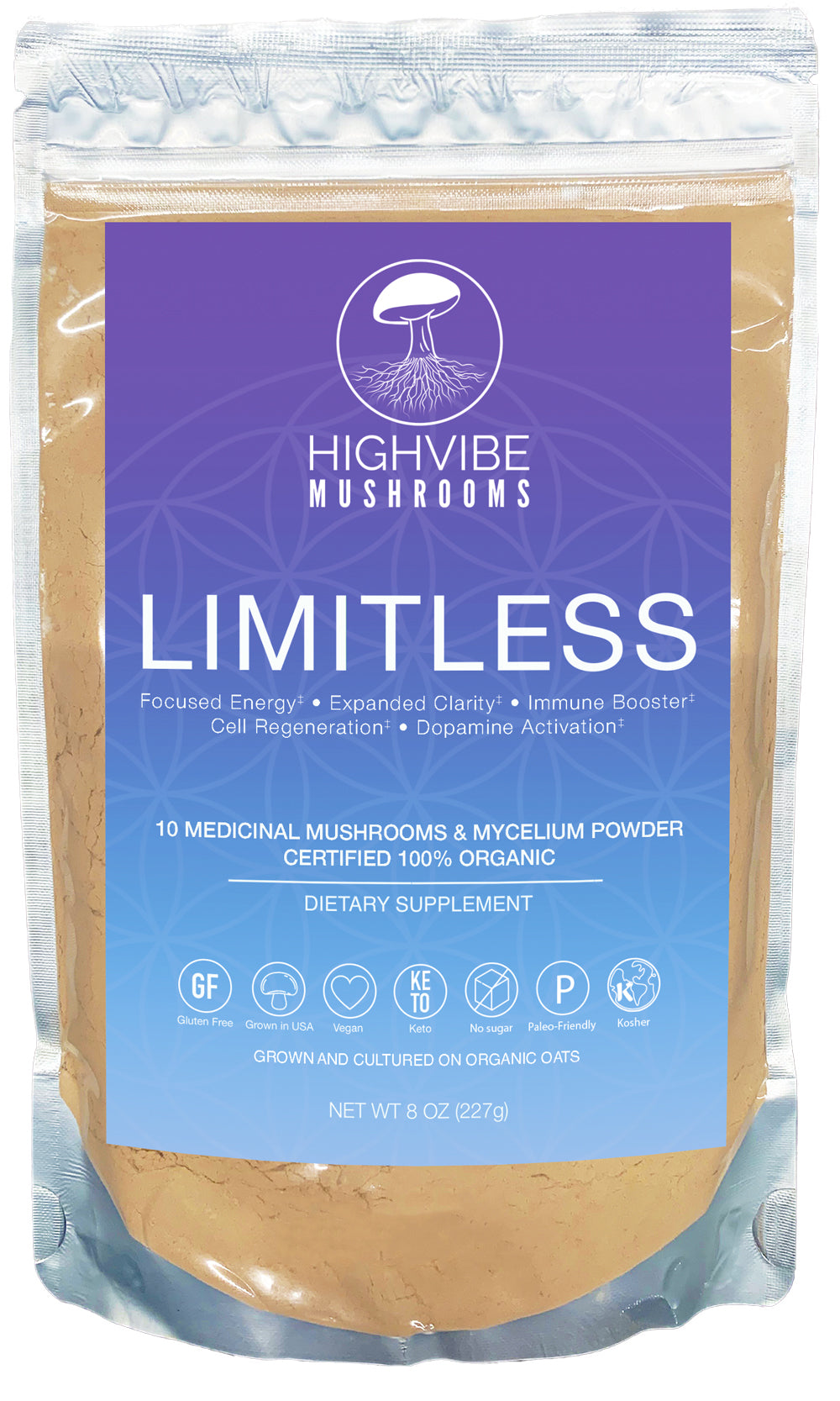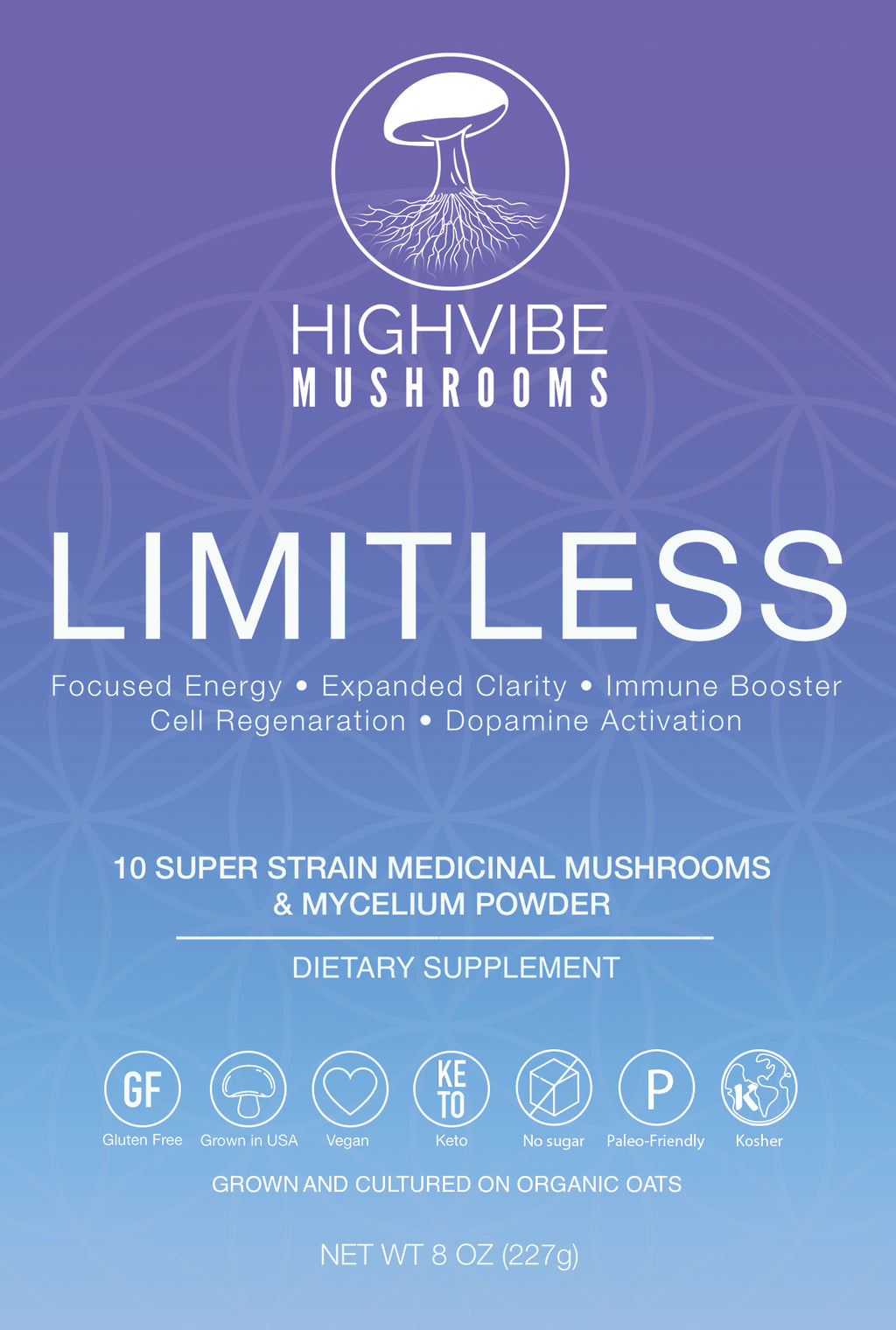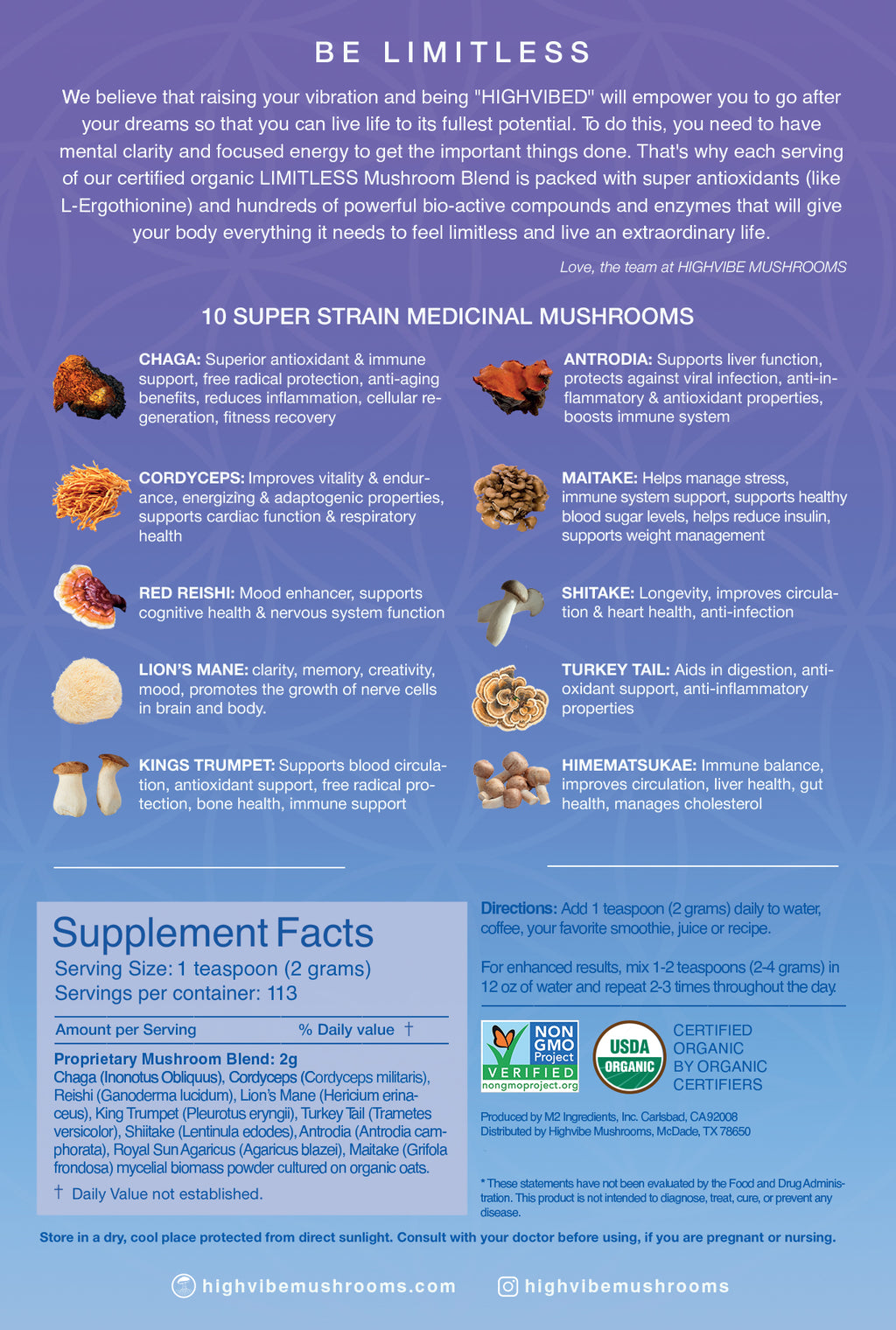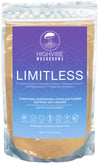 Big Bag
The Big Bag contains 227 grams for 113 servings.
Small Bag
The Small Bag contains 113 grams for 56 servings
It's time to HIGHVIBE your LIFE!
HIGHVIBE Mushrooms is a proprietary blend of 10 super strain species of medicinal mushrooms that boosts your immune system, improves focus & mental clarity & aids in detoxification.
Activate your brain and body and break through limitations with this tonic, organic complex array of mushrooms delivers a long-lasting boost of energy & focus without the jittery side effects & can be added to your smoothie, coffee, tea, or simply mixed with water for ultimate cognitive clarity, energy & focus.
LIMITLESS is a superblend of 10 medicinal mushrooms including Chaga, Cordyceps, Red Reishi, Lionsmane, Kings Trumpet, Turkey Tail, Shitake, Antrodia, Himematsukae, and Maitake.
HIGHVIBE Mushrooms are grown in an environmentally controlled, cGMP certified facility in Carlsbad, California. We are Non-GMO verified, USDA Certified Organic, Gluten-free, Vegan, Keto, Sugar-free, Kosher & Paleo-friendly.
5.0/5 based on 49 reviews.
HIGHVIBE Mushrooms has always maintained the highest standards in customer service and satisfaction. We believe in giving our customers the best. While you can always take our word for it, you don't have to. Read what our customers are saying about us.
Life Changer
I have been ordering Highvibe Mushrooms for over a year. My overall gut health and brain function are much improved! Also, it curbs your hunger! I think it has a calming affect on your stomach and my stomach doesn't rumble like it used to. I love this product!
Since I've been taken Limitless daily with my morning tea, I've noticed a huge boost to my immunity. It's winter now, with people getting sick left and right, but not me. I know it's the mushrooms because I only missed a few days and felt like I might be starting to get sick, but as soon as I started taking them again I felt fine.
Excellent Mycelium Healing
I was recently introduced to Limitless Mushrooms, and I have been more than pleasantly surprised so far. One, I enjoy how it tastes. Two, my energy has been higher than normal since I started having Limitless twice a day. Three, my intestinal health seems to be improving as well.
I am definitely getting this to send to others so that they can try it out. Excellent product and would recommend to anyone wanting to include medicinal mushrooms in their supplementation.
Every day without fail
I drink this in my coffee every morning. I don't want to go through my day without it%21%21 Sometimes I take a smaller dose in the afternoon to fix that after lunch lag.
HighVibe Mushrooms are helping my body heal
I'm absolutely amazed how the mushrooms is helping my body heal. I couldn't get my blood pressure under control and was working on the 6th medication which also didn't work for me. I started taking the highvibe mushrooms and magic after only the second bag. I no longer have high blood pressure. I am starting to feel more energetic and even the spider veins on my legs are disappearing.
You have done an amazing job putting together this mushroom blend. I've tried all the brands, well almost all the brands of mushrooms and your combination hands down did make a difference.
Thank you I wish you all the best. Please continue making your product. It's the best. Karen
For Today's Fast-Paced Life
10 SUPER STRAIN MEDICINAL MUSHROOMS
TURKEY TAIL

REISHI

MAITAKE

SHIITAKE

HIMEMATSUTAKE

CHAGA

KING TRUMPET

CORDYCEPS

REISHI

LION'S MANE
---